Starkey Evolv AI CIC hearing aids with Built-in Bluetooth connectivity
Evolv AI CIC hearing aids now in the UK…..
Evolv AI is the first 2.4 GHz CIC (completely-in-canal) hearing aid with integrated sensors and artificial intelligence. It's the World's smallest 2.4 GHz CIC custom moulded to your unique ear canal. These discreet and powerful devices have water-resistant coating to resist dust, moisture, and humidity ensuring your custom hearing aids last a long time.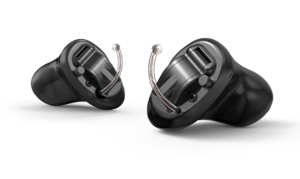 With up to 55 million personalised adjustments every hour, Evolv AI is an award-winning hearing aid that is expertly designed to automatically deliver realistic and genuine sound quality in every listening environment, so wearers can hear and enjoy life. Evolv AI is available in all styles, from Behind-The-Ear and Receiver-In-Canal to Completely-In-Canal and Invisible.
Best invisible hearing aid of 2023
Starkey's Evolv AI has been named the best invisible hearing aid of 2023, according to a recent list by Forbes. The Forbes Health editorial team consulted with audiologists from the Forbes Health Advisory Board to determine the best invisible hearing aids available. Ratings were based on prices, average user ratings and product features that are typically important to hearing aid users. Evolv AI was the only hearing aid to receive a five-star rating, earning the top spot on the list.
"As the industry leader in custom hearing aids, we are committed to excellence when it comes to our Invisible-In-Canal devices," said Starkey President and CEO Brandon Sawalich. "We know that, far too often, the stigma associated with wearing hearing aids prevents people with hearing loss from getting the help they need. These hearing aids help break down that barrier. While we are proud of what we've accomplished so far, the best is yet to come. Exciting things are right around the corner, that will help people hear better, so they can live their best lives."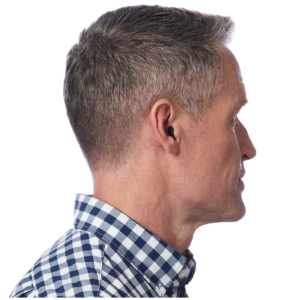 Compared to previous technology Evolv AI provides an additional 40% reduction in noise energy designed to reduce listening effort, with better than ever sound.
2-Way Audio – Now, you can take and end calls directly from your hearing aids instead of your Apple device. Plus, hearing aid microphones pick up and stream your voice directly back to iPhone and iPad allowing you to seamlessly talk hands-free.
Edge Mode – Hearing better in challenging listening environments is easy with Starkey's friendly, on-demand Artificial Intelligence feature that works with or without Starkey's Thrive app.
TeleHear™ – Remote programming offers even more flexibility and fine tuning wherever you are. Discuss with your clinical audiologist and you can easily make adjustments to your Evolv AI hearing aids.
The Starkey Evolv AI CIC hearing aid is currently awaiting a CE rating accreditation. As soon as this is available it will be released in the UK.
If you're interested in finding out when this and all new hearing technology is available in the UK contact us below or call 020 7486 1053.
Evolv AI CIC hearing aids review
Matthew Allsop is a Partner at Harley Street Hearing. He is Hearing Tracker's worldwide Video Content Manager and gives his honest, independent opinion on all new hearing technology. Hearing Tracker is the world's first truly-independent resource for hearing aid consumers. To see Matthew's review of Starkey's Evolv AI CIC hearing aids click below: