In-Ear Monitors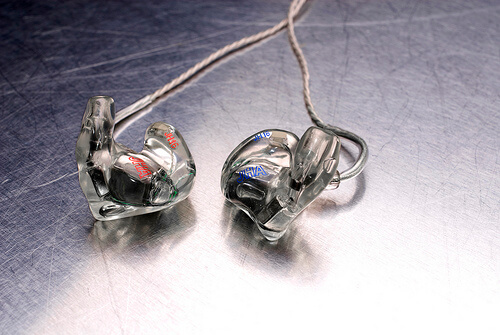 In-ear monitors (or IEMs) are custom-moulded earphones that are often used by bands and artists who perform live on stage. They are connected to the audio system and allow a personalised mix to be received directly into the performers ears. In-ear monitors can reduce the risk of feedback as they lower the number of loudspeakers required for performance monitoring.
Call now for an appointment for your ear impressions.
Why Should I Use Custom In Ear Monitors?
There are a wide range of benefits of in ear monitors that can completely transform your performance when playing live on stage.
Complete freedom of movement for the artist:
Never feel tied down again with a custom IEM, allowing you to express yourself through performance, no strings attached.
Control of volume, helping to safeguard hearing and reducing voice fatigue:
You are able to take full control of your performance with custom in ear monitors that are adaptable to you.
A clear and uncluttered stage, improving audience sightlines:
Wow your audience with wireless in ear monitors that allow you to say goodbye to wires.
Overall improvement in monitoring sound quality, more precise, more consistent:
Be the best you can be. Custom IEMs allow you to produce the exact sounds you desire with the quality of sound as precise as you could ask for.
Why Choose Custom In Ear Monitors From Us?
At Harley Street Hearing Clinic, we pride ourselves in producing the finest auditory products.
One of our highly trained audiologists will take your unique ear impressions and send your ear impressions to your chosen manufacturer. To see more details on specific in ear monitor manufacturers click here.
For more details on different types of hearing protection we have to offer click here.
To book your appointment, please call or complete the form.