Hearing Test & Consultation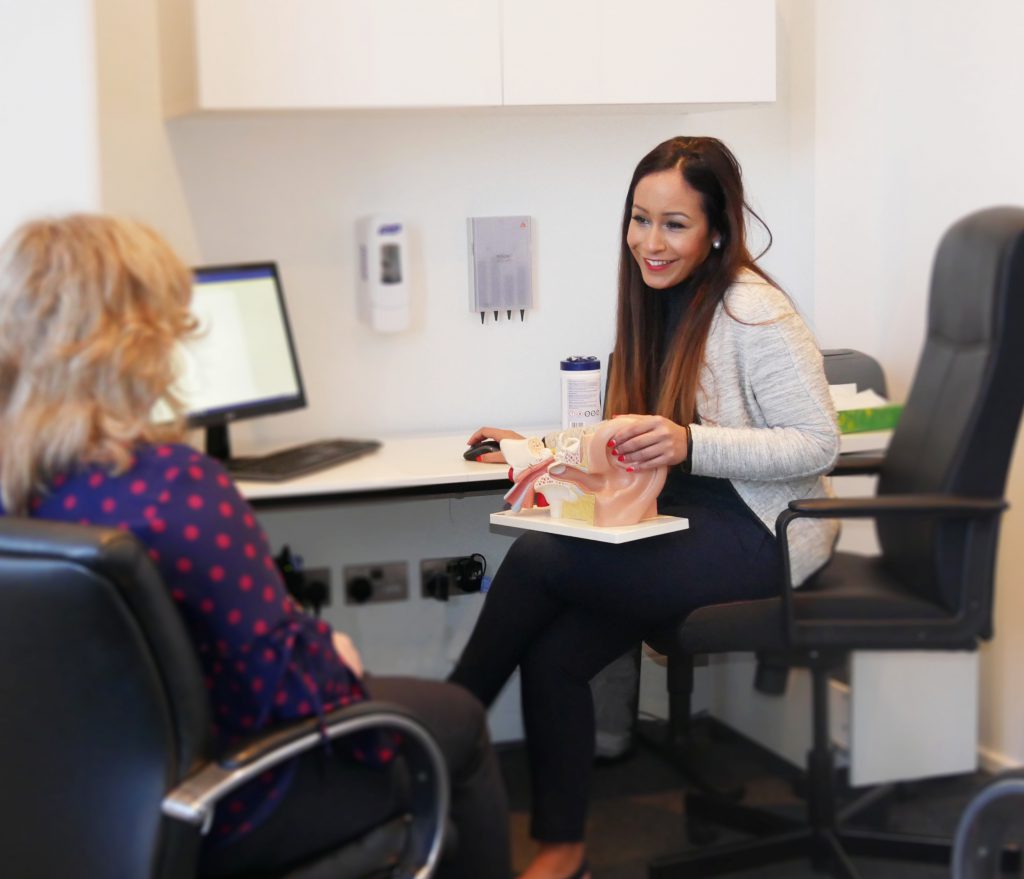 If you are experiencing hearing loss, it can be an isolating time and hard to accept. Here at Harley Street Hearing, we treat everyone visiting our clinic with care and understanding, paying particular attention to your individual hearing needs.
Through a hearing loss test, we can determine the best approach to help improve your hearing and should you need hearing aids, we will provide you with the latest technology on the market today, selecting the best option to suit your lifestyle and budget.
Hearing Aid Test
During your hearing aid test and consultation, we'll assess your level of hearing loss in both ears, including examination of the ear itself and the auditory canal. A full audiometric hearing assessment will be performed, and this can also include speech discrimination testing if required. This initial consultation will provide you with valuable insight into your hearing loss and advice on the next steps.
Being an independent practice, we can choose from a complete range of new generation technology hearing aids. After your private hearing aid test, we will order in your bespoke hearing aids to provide you with optimum results for your individual requirements. They include:
Truly invisible Swiss-made solutions
World's first Artificial Intelligence with integrated sensors
New technology to hear clearly with background noise
New rechargeable hearing aids – no need to change batteries
Hearing Aid Consultation & Fitting
At your fitting appointment, we will programme your new hearing aids using computerised sound samples to imitate "real-life" situations such as restaurant background noise and street noise. We create settings for your individual requirements.
Your highly qualified audiologist also provides full instruction on the use and care of the hearing aids, including cleaning and maintenance.
Hearing Loss Test – Lifetime of Aftercare
We'll call you after a few days to see how you are acclimatising to your new hearing technology, and book in a follow-up appointment to discuss your progress and adjust your settings as needed.  All of our hearing aid patients receive a full aftercare package enabling you to book appointments whenever you need them free of charge for the first 2 years. We will then see you annually for your complimentary hearing review where we will test your hearing as well as cleaning and checking your hearing aids to ensure they are working to their optimal ability.
As well as a private hearing test, we can help you with other services if you require, including a range of custom-made hearing protection and tinnitus therapy. We can also provide on-the-day specialist ear wax removal appointments.
Book a Private Hearing Test & Consultation Today
At Harley Street Hearing, we have provided expert hearing loss treatment and solutions for 25 years through private consultation. As we are registered with the Health and Care Professions Council, you do not need to be referred by a GP or ENT Consultant to see us. All you have to do is call us on 020 7486 1053 to discuss your hearing test consultation or complete the form below for us to get in touch with you at a convenient time.
Whilst we recommend that you book a hearing test at our clinic, you can read more about our services here from past and current clients.
COVID-19 Update: We have implemented appropriate social distancing measures and your audiologist will be wearing various levels of PPE depending on the type of appointment you require.  We continue to disinfect all rooms and equipment after each appointment, and we would ask that you wear a face mask when attending the practice.
If you prefer to drive in to see us, parking is often available in Harley Street or the surrounding area, or there is often space at Q-Park Oxford Street in Cavendish Square, which is just a 3 minute walk from us.