Invisible Hearing Aids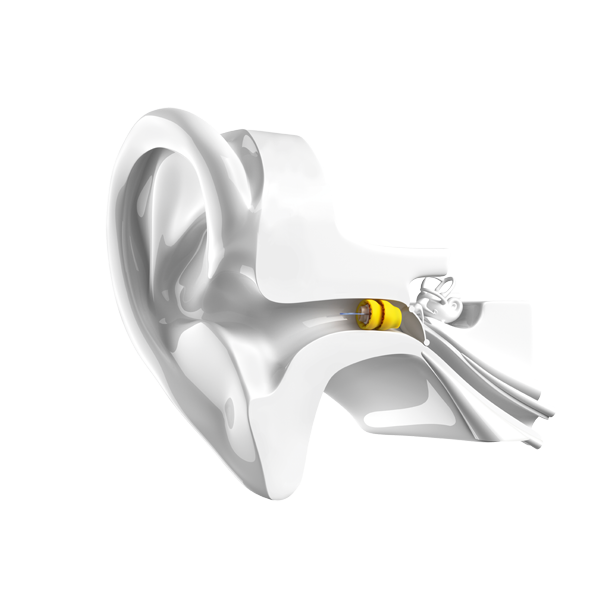 Offering the highest quality invisible hearing aids on the market, we at Harley Street Hearing Clinic know the life changing impact they can have. We offer a range of invisible hearing aids, such as the  Lyric Hearing Aid, that can fit completely inside the ear. This pioneering feat of technology allows you to wear a new invisible hearing aid that is completely unnoticeable, meaning no one will ever even know you are wearing one. If you want complete invisibility while enjoying the benefit of these powerful yet easily concealed hearing aids, look no further. Lyric can be easily fitted by highly skilled audiologists that are approved by Phonak UK.
The Best Invisible Hearing Aids In The UK
As the number one provider of the Lyric hearing aid in the UK, we only offer the very best quality products. Most invisible hearing aids you encounter online aren't true to their word. At Harley Street Hearing Clinic, we provide new invisible hearing aids that are completely invisible to the eye, so you can let go of any past insecurities you may have in regard to the cosmetics of wearing them. Invisible hearing aids prices for the Lyric model can be found here, Lyric allows you to hear effortlessly, look flawless, and feel fantastic. The invisible Lyric price is split up into monthly payments, on a subscription basis. This allows you to pay as you go while hearing like never before. If you'd prefer to purchase your hearing aids outright we also provide other invisible/discreet hearing aids from all UK manufacturers.
Why Choose Invisible Hearing Aids With Us?
Most invisible or discreet hearing aids don't live up to their expectations. Our products are unmatched in their ability to remain concealed all day long, as well as their quality of sound. Rather than simply mimicking natural sounds, our new invisible hearing aids allow for the creation of an even clearer sound, helping you hear the world better. 
Our products improve sound in its directionality, as well as enhancing sound localisation. This means even though no one can see your new invisible hearing aid, you will be able to tell exactly where the sounds around you are coming from. You will also be able to wear your hearing aids while listening to other audio devices, such as headphones or your phone. With a new invisible hearing aid worn discreetly inside the ear canal, it will remain hidden to those around you. No one will ever suspect you have hearing loss again once you purchase new invisible hearing aids from us.  Halrey Street Hearing offer a completely bespoke service and a lifetime of aftercare.
Visit Us Today For Your New Invisible Hearing Aids
By visiting Harley Street Hearing Clinic, you can book a consultation with one of our accredited audiologists. In doing so, you can discuss your options for acquiring the best invisible hearing aids in the UK. You will be able to acquire further information about your new invisible hearing aids price. Additionally, you can get custom-made product, tailored to your auditory needs. Enjoy a product where the cost and effort are minimal, but the benefits are huge. You are able to wear this truly invisible hearing aid for up to 3 months at a time. Furthermore, our customers have even said they don't feel like they are wearing a hearing aid at all.  You are also able to wear them while showering, swimming or doing any other form of exercise.
Contact Us Now To Get Hold Of The Best Invisible Hearing Aids in The UK
To see what to expect when you book your appointment with us, click here.  For more details on different types of hearing aids other than invisible hearing aids click here.
To book your appointment, please call us on 020 7486 1053. Alternatively, can fill out the form below and get started. We are always happy to help and look forward to hearing from you.