Ear wax removal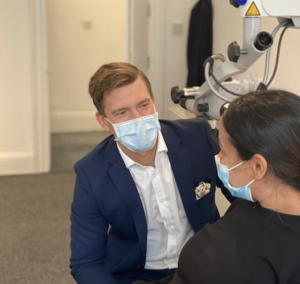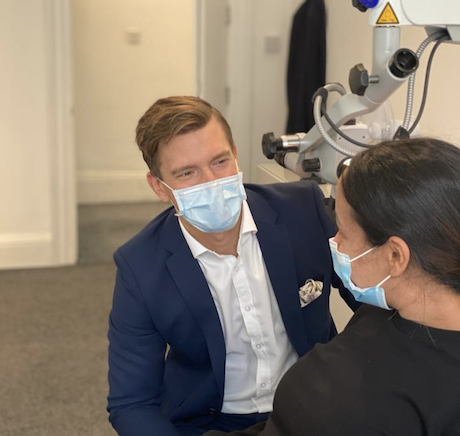 Ear Wax Removal
For issues with blocked ears and concerns about hearing, our team of ear care practitioners are available for same day ear wax removal appointments for a fee of £80 at our hearing clinics at 2 Harley Street, 7 Devonshire Street, Golders Green and Swiss Cottage.
Book an appointment at one of our ear care clinics for professional ear wax removal in London. 
When do I Need Professional Ear Wax Removal?
Everyone has ear wax, so when does it get to the stage of requiring professional ear cleaning? There are many common signs of an ear wax build-up. These can include partial or complete hearing loss, earache, a ringing sound and sometimes even feeling dizzy and nauseous. There are various reasons that this build-up can be caused and most are out of your control; small or damaged ear canals, excessive hair, regular swimming and a build-up of dry skin are all common factors.
It can be tempting to take matters into your own hands and try using cotton buds or your fingers to budge the blockage but we strongly advise avoiding this. Pushing objects into your ear to try and clear them can cause further damage, ear wax extraction should always be carried out by a professional. 
Effective Ear Cleaning Methodologies
Our team of ear care practitioners are fully qualified clinical audiologists who are able to offer a full range of techniques for ear wax removal.
Microsuction
Carried out with precision accuracy using high-spec examination microscopes.  This gives your audiologist x20 magnification for unrivalled visibility and depth perception so they can work safely in the ear canal. The process allows your audiologist to see the inside of the ear and painless.  
Irrigation
Also known as syringing, this form of professional ear cleaning uses a machine that sprays water into the ear to dislodge the build-up of ear wax. The irrigation solution is warmed to the body's temperature.
Preparing for Ear Wax Removal in London
To achieve the best results apply softening drops or olive oil prior to your appointment. This makes it much easier to remove any hardened wax.
If you wear hearing aids, please bring these along to your appointment and we can check and clean them for you.
Please be aware that we are not able to issue prescriptions; if you suspect that you may have an infection, please seek the advice of your GP.
"Having had microsuction on numerous occasions from both private and NHS practitioners, some of which have included some fairly esteemed ENT consultant doctors – I can genuinely say that the care, attention and precision was without parallel.  I will definitely be making a return visit to the clinic! Kind regards  Arthur Woodward BA ACA"