Musicians Plugs
Musician Ear Plugs
Musician ear plugs are essential for those who are constantly exposed to loud sounds caused by music on a regular basis. Protecting your hearing is essential, but why diminish the quality of the sounds around you? We offer the best earplugs for musicians, designed to protect your hearing while preserving all the rich nuances of music. Other off the shelf earplugs, such as those made from foam, muffle sound and speech, so the quality of sound is lost. Our custom moulded ear plugs are made from your individual ear impressions with sound attenuating filters. This means that the sound perceived when using them is true to the original sound, without causing damage to your hearing.
Why Protect Your Hearing?
Whether you require earplugs for being around, or playing loud music, ear protection for musicians is essential for your auditory health. Exposure to loud music over a prolonged time period can result in issues such as hearing loss  tinnitus, hyperacusis or other conditions that cause ringing in the ears, which can become debilitating as time goes on. Any loud sounds can cause irreversible damage. Our custom ear plugs allow you to protect your hearing while communicating effectively, which is essential in any noisy environment.
To enquire about musician ear plugs, call us on us on 020 7486 1053 or complete the form below. You may be eligible for the Musicians Hearing Health Scheme. To find out more, click here for info.
How Can I Get Ear Plugs for Loud Music?
One of our highly trained audiologists will take your unique ear impressions to create moulds for your custom ear plugs. This process is entirely painless and can be done in a matter of minutes.  
Your impressions will then be used to create your earplugs which are individually crafted to fit the precise size and shape of your ear. This ensures a very comfortable fit and most importantly, an appropriate level of protection.  
Why Choose Custom Ear Plugs?
Every ear is unique, which is why having custom ear plugs is essential for each individual. Having moulded ear plugs gives you ear protection for musicians that allows for the ultimate fit for ear comfort and noise isolation. Many musicians say they hear their own instruments better, as well as the balance with instruments around them. We provide custom earplugs for drummers, as well as all areas of the entertainment industry. Benefits of the best earplugs for musicians include:
Even reduction of sound levels; music and speech are clear and natural, not muffled as with other off-the-shelf earplugs.
A luxury fit; made in soft durable silicon they are produced in clear as standard.
Optional extras; a range of colours and detachable neck cords options.
Colour Choices: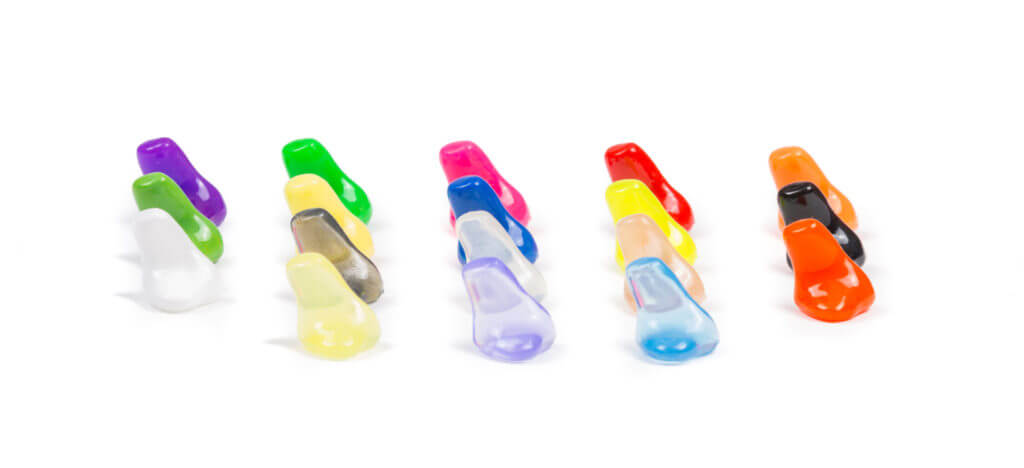 Why We Use ACS Filters in Musician Ear Plugs
Our ear plugs for loud music were developed specifically for musicians. By incorporating a unique flat attenuating filter, the custom moulded ear plugs are tuned to provide a predefined reduction in ambient noise by 10, 15, 17, 20 or 25dB(A), whilst maintaining sound clarity for performance. This means you can hear your own instrument, while still being to hear the blend with other musicians around you.
Maintaining Your Musician Ear Plugs
Our musicians' ear plugs should fit snugly yet comfortably. It is advisable to use a lubricant to ease insertion. Filters should be kept dry. If dust or dirt accumulates remove it gently with a cloth or small soft brush.
The moulds of your custom ear plugs should be removed from the filter, before washing the mould with water and mild soap. Dry out naturally before reinserting the custom ear plug filter. To do this, you can use a cleaning swab to clean the moulds.
Audio-Wipes are useful if you experience itchy ears when wearing moulded ear plugs. Musician ear plugs are specifically designed to be a long-lasting product. Although they should last for many years, if you use them regularly it is advisable to have new moulded ear plugs every 4 years.
High Fidelity Musician Earplugs
Early intervention can help any hearing deterioration so why not have a hearing test at the same time. The buttons have a diaphragm which functions as an acoustic compliance, while the volume of air in the sound bore of the custom ear plug mould acts as an acoustic mass.  The combination of the two produces a resonance at approximately 2700 Hz (as in the normal ear), which results in smooth, flat attenuation.
Contact Us Now to Get Hold of The Best Musician Earplugs
For more details on different types of hearing protection other than ear plugs for loud music click here.
To book your appointment, please call us on 020 7486 1053. Alternatively, can fill out the form below and get started. We are always happy to help and look forward to hearing from you.
If you have a large number of people requiring custom mould ear plug fittings, we are able to make on-site visits for your convenience.