Most successful Lyric Centre in Europe
Harley Street Hearing have been awarded the most successful Lyric Centre in Europe and the rest of the world (outside of the USA), pronounced as the "Outstanding Lyric Centre 2015" by worldwide hearing aid manufacturer, Phonak.
Our new clinic, North West Hearing in Greater Manchester, was also named as the best new Lyric Centre.
Pictured above from left to right: Dr Greg Nassar-Clinical Services Manager, North West Hearing, Mr Paul Checkley-Clinical Director, Harley Street Hearing group and Ms Jaspreet Bahra, Harley Street Hearing and the UK's Senior Lyric Audiologist.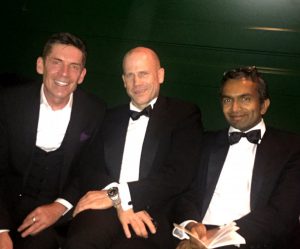 Pictured from left to right: Mr Paul Checkley, Clinical Director-Harley Street Hearing group, Mr Jacob Johnson ENT Surgeon and Clinical Advisor for Lyric, Mr Phillip Orth, Senior Manager Global Marketing-Lyric.
For more information on Lyric, and to come to the most successful Lyric Centre for your free Lyric assessment click here