Best hearing aids available in the UK for 2023
2023 has seen a boom in the hearing aid technology market and many well-known manufacturers are bringing out slimmer, more technologically advanced and more discreet hearing aids than ever before.
Here is our review of the best hearing aids available in the UK for hearing aid users in 2023.
Hearing Aid Review index
Oticon Real
Building on the legacy of Oticon More, the latest edition to the Oticon hearing aid family has several unique features that stand out against other hearing aid manufacturers. The Oticon Real is available in various colours and three different technology levels; Real 1, Real 2 and Real 3, with Real 1 being the most technologically advanced.
The Oticon Real is available with a lithium-ion rechargeable or non-rechargeable battery option, both of which are visually similar and benefit from a telecoil system built in. The rechargeable battery option comes at a higher price, however you quickly reap the benefits of not needing to purchase batteries regularly.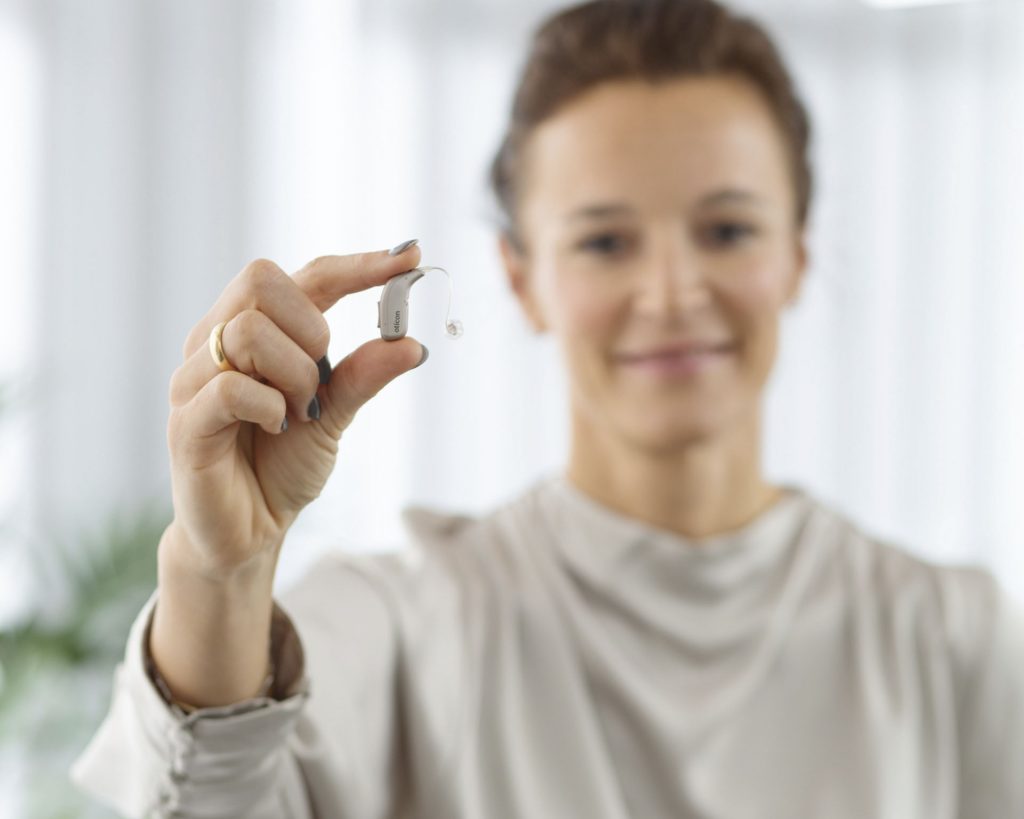 Oticon Real hearing aid features
The new Oticon Real hearing aid family are packed full of features, two of which are exclusive to these hearing aids alone, and work seamlessly to support existing features, giving you an authentic hearing experience that is clearer than ever before.
Oticon's deep neural network
One of Oticon's standout features is its built-in deep neural network which tells the hearing aid how to react to sounds to offer clear, true-to-life hearing.
Oticon state they are the first manufacturer to use 12 million sound scenes recorded from real life to train the hearing aids' deep neural network on how sounds should sound to the human brain. This helps the hearing aid accurately decide how to react to specific noises, focusing on delivering the sounds that you want to hear, whilst cancelling out the sounds you don't.
The Oticon Real hearing aids have been designed with two new features that enhance this feature further; SuddenSound Stabilizer and Wind & Handling Stabilizer.
SuddenSound Stabilizer
The SuddenSound Stabilizer, which runs under the MoreSound Amplifier 2.0, provides dynamic and balanced amplification that reacts to the nature of the sound scene and adapts its resolution to bring you a natural listening experience without overwhelming you with environmental sounds.
SuddenSound Stabilizer is designed to detect both soft, loud and sudden sounds and control them so they're audible without being uncomfortably loud, intrusive or unnatural.
Wind & Handling Stabilizer
The Wind & Handling Stabilizer feature, which runs alongside MoreSound Intelligence 2.0, makes following and engaging in conversation easier, especially whilst in noisy environments.
This intuitive feature scans your sound scene 500 times a second and organises and delivers the sound based on how the deep neural network determines is the clearest and most accurate to life. And, as the name suggests, the Wind & Handling Stabiliser feature also combats unwanted noise caused by wind sounds and from handling the device.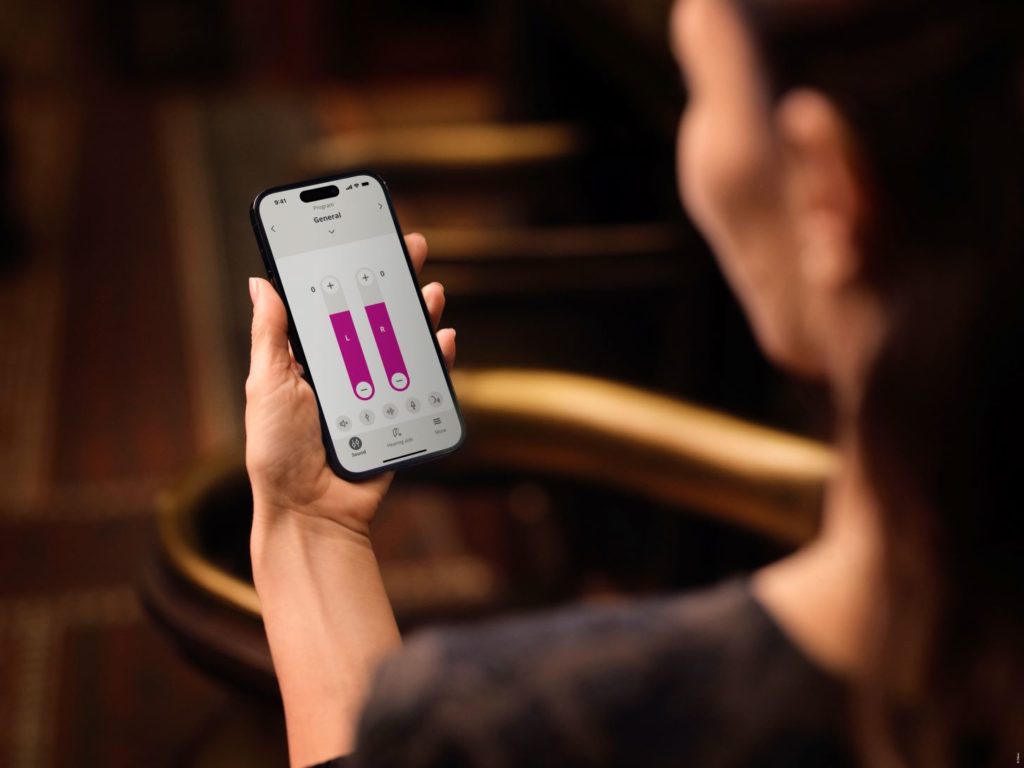 Bluetooth and intuitive mobile app
Bluetooth is built into many modern hearing aids, including the new Oticon Real hearing aids, and although this feature alone isn't something that's groundbreaking, their updated mobile app certainly is. With these new updates, the Oticon mobile app gives users greater control over their hearing aids and customises their experience to suit their needs.
If you're unfamiliar with the benefits of Bluetooth hearing aids, they allow you to stream phone calls and entertainment such as music, radio and podcasts straight to your hearing aids, as well as adjust their settings using apps as previously mentioned.
Tinnitus SoundSupport
Oticon's Tinnitus SoundSupport is a sound generator that seamlessly integrates into the day-to-day functions of your hearing aid. This program allows you to play various sounds, such as crashing ocean waves or white noise, to distract your attention away from tinnitus-related ringing.
Oticon Real features breakdown:
3 different technology levels

Non-rechargeable and rechargeable lithium-ion battery options

Telecoil system built-in

Intelligent deep neural network for true-to-life sounds

2 new features; Wind & Handling Stabiliser and SuddenSound Stabiliser

Built-in Bluetooth and mobile app

Tinnitus SoundSupport technology
Phonak Lumity
The Phonak Audéo Lumity hearing aid range is available in three different models; The Audéo Lumity R, which is rechargeable; the Audéo Lumity RT, which is rechargeable with a telecoil; and the Audéo Lumity RL, which is their Life version which is waterproof using the same technology as NASA use for their spacecraft and is also rechargeable. All of these models come in the Reciever-in-Canal (RIC) style of hearing aid, making them an ideal choice for those with dexterity limitations.
Each Audéo Lumity model is available across all of Phonak's technology levels; Essential, Standard, Advanced and Premium. As the technology levels advance, so do the number of features and level of automation.
New to the range is Phonak's Audéo Lumity Slim hearing aid, which benefits from all the features listed here, but in a modern and sleek slim design.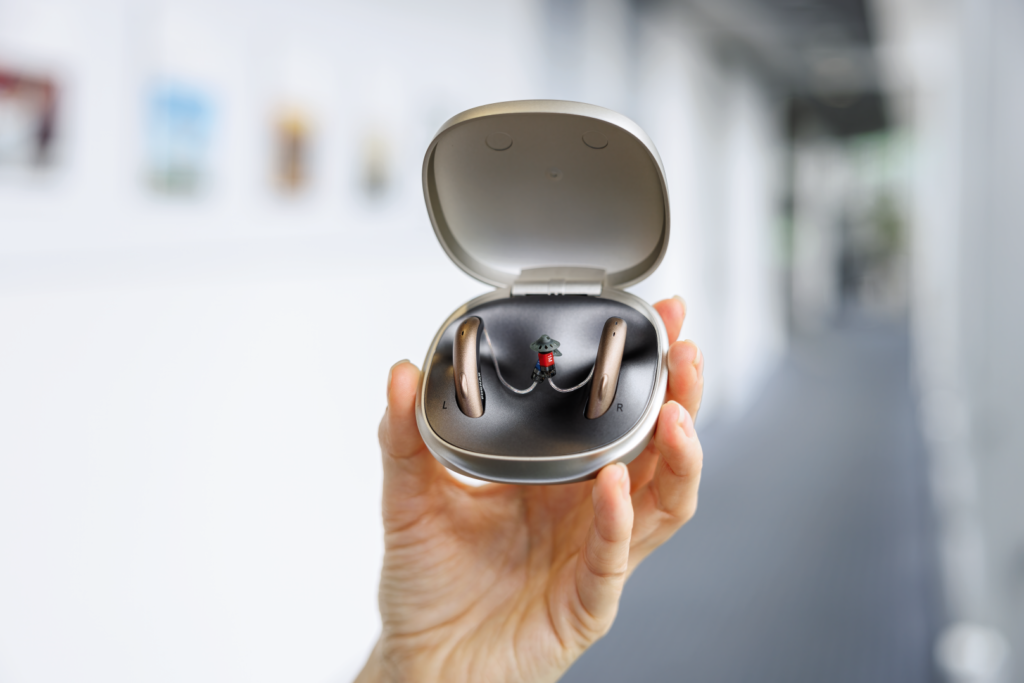 Phonak Audéo Lumity hearing aid features
The latest Phonak Audéo Lumity hearing aids are built using the same computer chip as its predecessor, the Phonak Paradise, and because of this, the Audéo Lumity benefits from many of the same features as the Paradise but with a few additional advantages.
AutoSense
The Audéo Lumity hearing aid family benefits from improved background noise handling capabilities in comparison to the Paradise hearing aids in a number of unique ways. With the Audéo hearing aid comes the debut of Phonak's AutoSense 5.0, an environmental classifier which scans the environment 700 times per second.
This intelligent feature automatically detects and changes your hearing aid settings to suit the sound scene. These settings can also be fine-tuned to your exact hearing needs by your audiologist, offering you a bespoke hearing experience unlike any other.
Once the hearing aid recognises the environment, it then chooses from 200 different setting combinations to optimise itself specifically for the environment you're in at the time. Phonak states that with the new AutoSense 5.0 feature, both background noise handling and speech understanding is vastly improved.
StereoZoom
The other new function to feature on Phonak's new Audéo Lumity hearing aids is StereoZoom 2.0, which is their directional beamforming setting. This smart feature is designed to focus the microphones of the hearing aids directly in front of the wearer in a noisy environment, allowing them to hear only the sounds they want to hear whilst cutting out those they don't.
According to Phonak, the advantage of StereoZoom 2.0 over the original StereoZoom, is that it's far more reactive to the environment around the wearer, providing greater awareness of environmental sounds, as well as the person in front of them.
SpeechSensor
The final new addition to debut with the Phonak Audéo Lumity hearing aids is the SpeechSensor feature. The SpeechSensor is a 360-degree speech detection algorithm that allows the wearer to hear more conversations that aren't coming from the front.
Older hearing aids are designed to aggressively focus on conversations that are happening in front of the wearer, whereas an estimated 20% of conversations happen from the side or behind the wearer; this can lead to a bubble-like feeling during conversations. With SpeechSensor, this bubble effect has been addressed with an omnidirectional setting that detects conversation from any angle without needing to turn your head.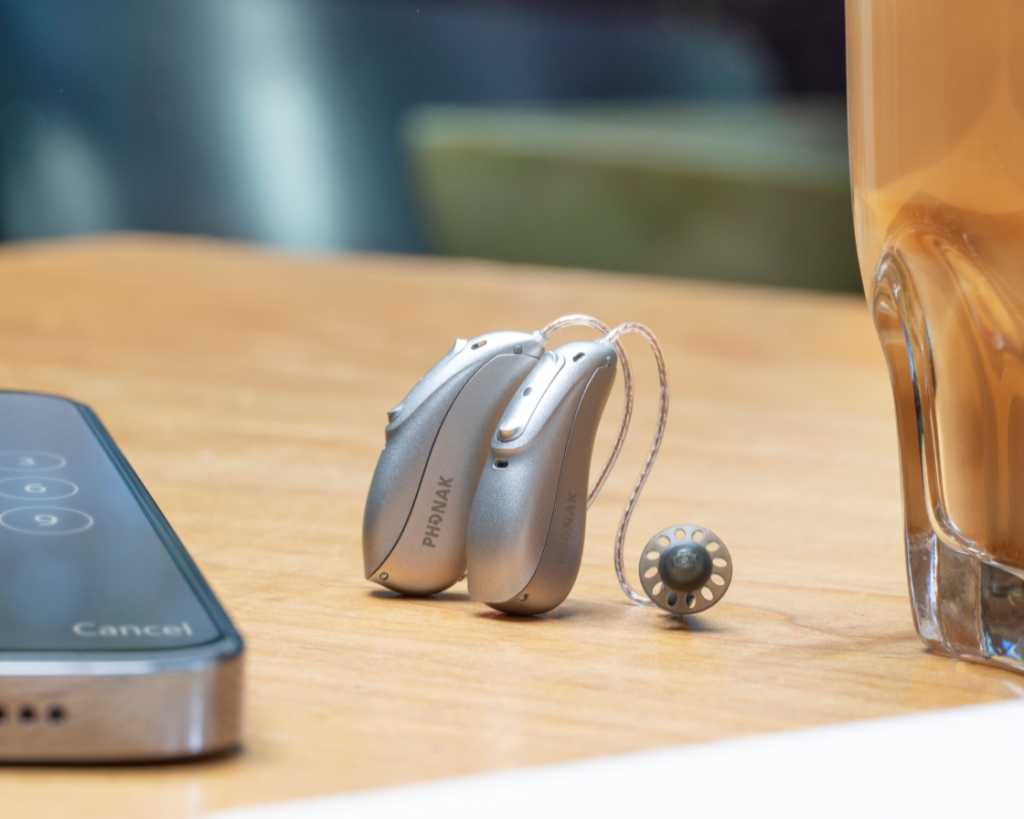 Further Phonak
Audéo
Lumity features
Phonak isn't playing around when it comes to improving the wearer's hearing experience with their hearing aids and has added some unique and helpful features:
Built-in motion sensors detect the direction in which the wearer is walking and thus the direction of the hearing aid microphone.

ActiveVent Receiver is a unique adaptive speaker that identifies when you're in a noisy environment and isolates you from that sound and improves sound quality when listening to music.

Traditional Bluetooth capabilities mean you can connect to phones, laptops or computers, and other Bluetooth devices; it even allows you to have hands-free phone calls.

An overhauled mobile app that gives wearers greater control over their hearing aid settings, including creating custom programs and offering a hands-on approach to adjusting settings
Phonak
Audéo
Lumity features breakdown:
4 different technology levels across 3 models

All models are rechargeable

Telecoil and waterproof versions available

Improved background noise-handling

3 new features; AutoSense 5.0, StereoZoom 2.0 and SpeechSensor

Traditional Bluetooth to connect with any Bluetooth device

myPhonak app for ultimate control
ReSound Omnia
Much like Phonak, ReSound has also focused on improving the way they handle background noise, and as a result, ReSound have reported that their Omnia hearing aids have a 150% improvement in speech understanding whilst in noise in comparison to their previous hearing aid, the ReSound ONE.
The ReSound Omnia is available in four different Receiver-in-Ear (RIE) models; the Mini-RIE, RIE-61 rechargeable, RIE-61 which uses a size 312 battery, and RIE-62 which uses a size 13 disposable battery and sports a multi-function button and built-in telecoil.
Each of these models are available in 3 different technology levels; 5, 7 and 9 with level 9 being the most advanced. As with the other hearing aids, as the technology level increases, as does the level of automation and the number of features.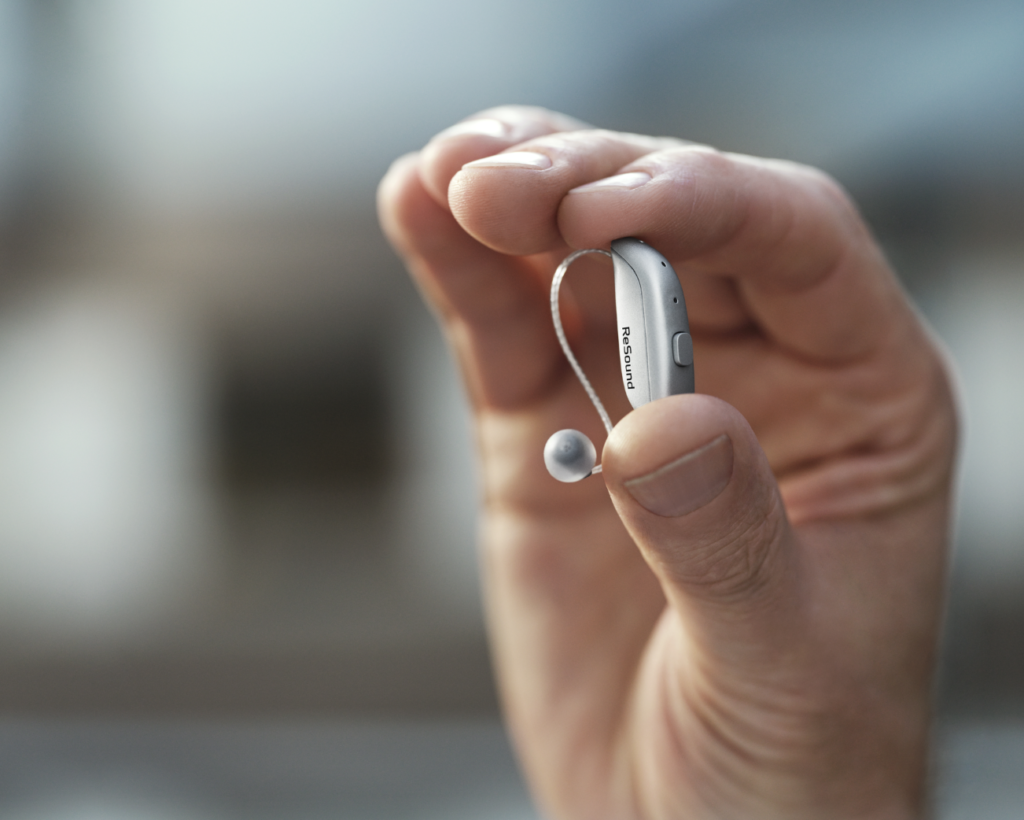 ReSound Omnia hearing aid features
ReSound prides itself on its organic hearing philosophy, in which they claim to take its design and engineering inspiration from how we naturally hear and seek to mimic that as closely as possible with their hearing aids. They achieve this using three different features that optimise speech understanding and background noise handling.
Environmental Classifier & Environmental Optimiser
The highly-technical Environmental Classifier scans your environment and utilises speech and noise detection algorithms to categorise your environment. This information is then shared with the Environmental Optimiser and the appropriate adjustments are made to that specific environment. This classification and categorisation tool is quicker than ever, giving you a seamless, natural hearing experience.
These settings, along with noise reduction settings, can be tailored to your needs by your clinical audiologist during your hearing aid consultation, giving you a fully personalised hearing aid.
360-degree All Around
Similarly to the Oticon Real hearing aids, ReSound Omnia's 360-degree All Around feature gives your brain wider access to the full sound scene which improves the auditory focus and prevents a hyperfocus on only what is going on in front of the wearer. This helps avoid the bubble effect that many hearing aid wearers complain about.
By increasing the degree that the hearing aid maps the soundscape, the hearing aid is able to make better decisions about where the speech is coming from, ensuring a more true-to-life hearing experience.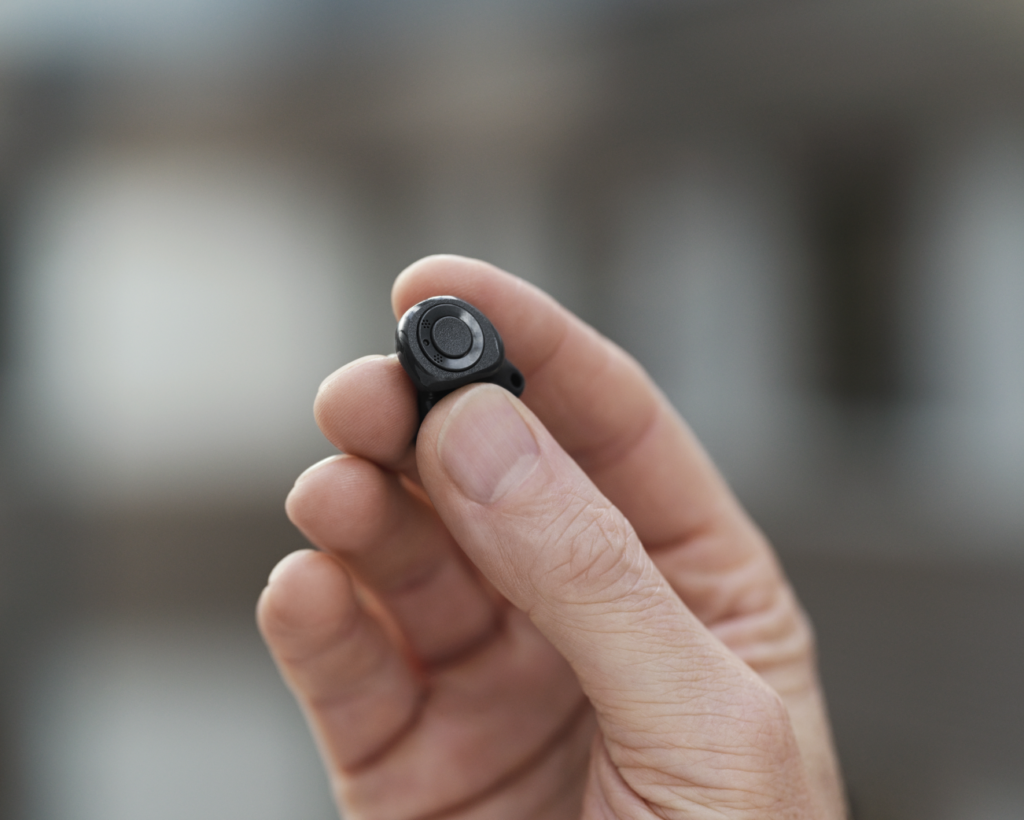 ReSound Omnia features breakdown:
3 different technology levels across 4 models

Telecoil version available

Improved background noise-handling

3 new features; Environmental Classifier, Environmental Optimiser and 360-degree All Around

Built-in Bluetooth and mobile app

Customisation options to fine-tune hearing aid settings

Geographic location recognition for automated setting adjustments
Signia AX
Signia have a history of designing hearing aids that are unique in their attempt to break the stereotypes associated with hearing aids, and the Signia AX range is no different. These unique features are available across four Signia AX models; the Pure Charge & Go AX, which is their rechargeable model; Pure Charge & Go T AX, which is their rechargeable model with a built-in telecoil; the Pure 312 AX, which is a disposable battery option; and the Styletto AX, which we believe is the most stylish of the range.
The Pure Charge & Go hearing aid comes in five different technology levels; 1, 2, 3, 5, and 7AX which is the most advanced.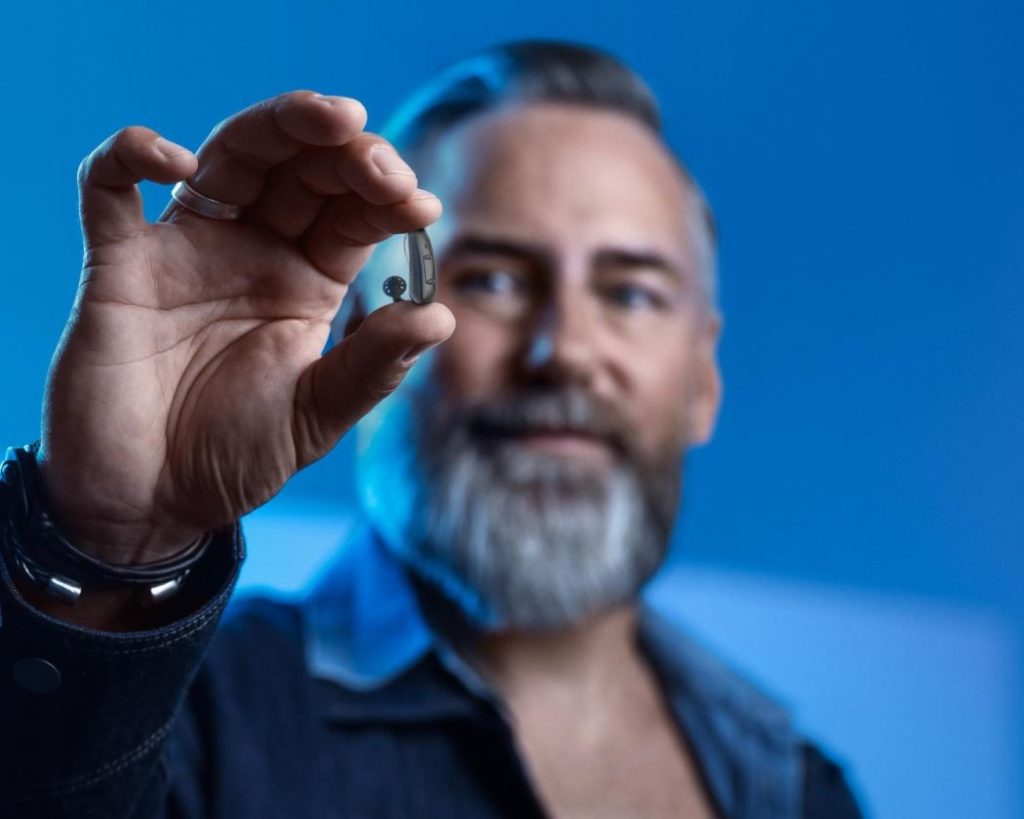 Signia AX hearing aid features
The new Signia AX hearing aids benefit from a wealth of game-changing features that make them stand out against their competitors, as well as improve on their predecessors.
Built-in dual processors & Augmented Focus
The main selling point of the Signia AX models is their dual processor technology. This allows the aids to process the sounds that are in focus, such as speech, whilst also focusing on the environmental sounds without processing too much acoustic information at the same time. Thanks to the dual processors, each signal is treated differently, with the speech receiving more linear amplification whilst unwanted noise is given greater levels of compression.
This is where the Augmented Focus comes in. With Augmented Focus, the hearing aids have the power to differentiate the sounds and control how these sounds are combined, prioritising the speed of each and creating a great contrast between speech and background noise.
The end result leads to clearer speech and higher levels of clarity within the details of speech whilst minimising background noise in situations such as groups, crowds or noisy listening environments.
Signia Assistant Artificial Intelligence
AI is all the rage right now, and Signia hasn't fallen behind on this innovative new advancement in technology. With the Signia Assistant Artificial Intelligence features available on their app, you can type in any hearing issue you may be experiencing and it will respond with a list of potential solutions for you to choose from.
It will then analyse the parameters in your acoustic environment and will enhance the settings on the hearing aids to suit your requests. Ultimately, this means that with your feedback, the hearing aids are in a constant state of evolution and learning.
Another benefit to this tool is that any feedback you provide to the app is accessible by your audiologist, and they can remotely track the interactions that you have with the Signia AI Assistant. As a result, your audiology appointments have greater value and should, in theory, help you reach your optimal hearing settings quicker.
Tinnitus support & Signia Tinnitus Notch Therapy
For those with tinnitus, these hearing aids offer three distraction different strategies that are unique to Signia. Firstly, they have their static noise tinnitus therapy signals, in which you choose from five preset noise signals, with options to customise the sounds. Secondly, they have four different ocean wave therapy signals which are designed to mimic the sound of the sea. And then finally, they have the Signia Tinnitus Notch Therapy.
This method of tinnitus therapy is designed for those experiencing tonal tinnitus, which is commonly known for ringing, whistling, or buzzing within the ear. This approach is quite different from using a masking sound, and Signia claims that the concept behind Notch Therapy isn't to drown out tinnitus like it is with masking but to teach the brain how to completely ignore it.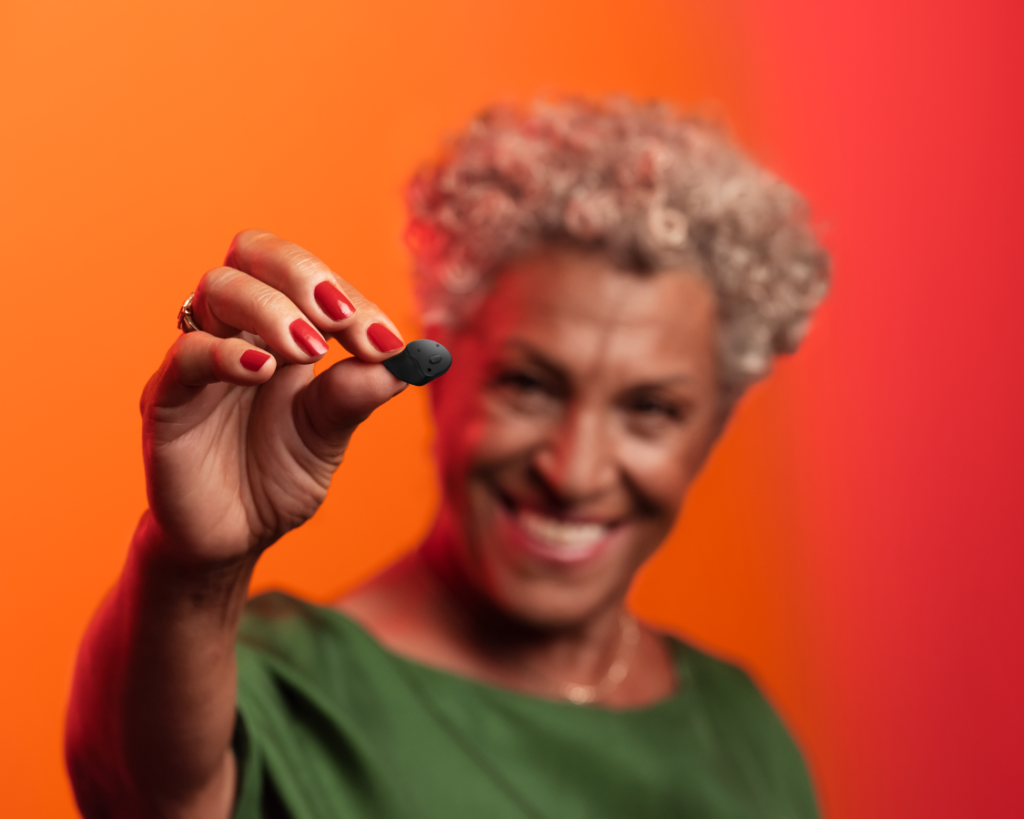 Signia AX features breakdown:
5 different technology levels across 4 models

Rechargeable and telecoil versions available

Dual processors for more intelligent sound awareness

Augmented Focus for better sound contrast

Signia Assistant Artificial Intelligence

Tinnitus support, including Signia's Tinnitus Notch Therapy
Widex Moment Sheer
The Widex Moment hearing aid family was initially released in 2020 and Widex have since been gradually adding to their Moment hearing aid range with hearing aids that boast unique features.
The Moment Sheer is available in three different Receiver-in-Canal (RIC) models across four technology levels; the RIC 10, which is the smallest of all the hearing aids mentioned in this review; the RIC 312 and the S RIC RD, which is their Sheer model.
The RIC 10 uses disposable size 10 batteries, and there is one drawback; this model as it doesn't come with Bluetooth. However, if size is important for you, it's still a worthy hearing aid to consider. The RIC 312 model uses disposable size 312 batteries, but with this model, you get the added benefit of built-in Bluetooth. Finally, the S RIC RD is rechargeable and features built-in Bluetooth.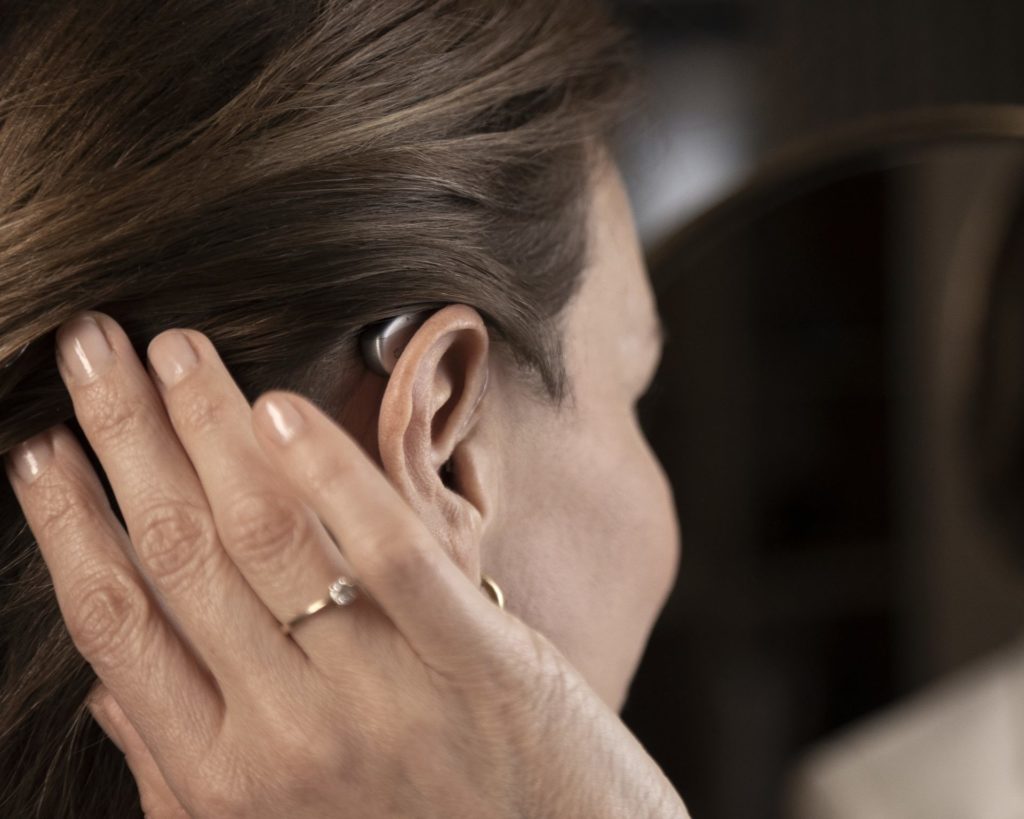 Widex Moment Sheer hearing aid features
These small-but-mighty hearing aids are packed full of unique features and benefits, some of which we haven't seen in other hearing aids mentioned so far in this review.
Widex PureSound
This program has been built with mild hearing loss in mind and uses Widex's zero-delay technology which processes sounds between 8 to 20 times faster than other Widex hearing aids.
What this means for the wearer is clearer, higher quality sounds, improved speech understanding and more natural sound compared to other hearing aid technology currently available.
Intelligent AI technology
Widex has a unique way in which they utilise AI technology and understanding. With the Bluetooth compatible Moment Sheer hearing aids, using their smartphone app, you can adjust the settings to teach the hearing aids when to automatically adjust to specific preferences while in the appropriate environments.
With the aid wearer's input, the hearing aid's decision-making process becomes more in tune with the wearer's preferences, giving greater listening comfort and subjective sound quality.
Fractal Zen Tone Therapy
Widex is well-known in the industry for its unique Fractal Zen Tone Therapy. This feature plays chime-like tones that can be used for relaxation and for making tinnitus less noticeable. This is individualised according to a user's hearing loss and also takes background noise into account.
There are various tones to choose from, so the wearer can choose a tone that provides them with the best relief from tinnitus. If tinnitus is a bothersome issue, even without hearing loss, this form of therapy can make a significant difference.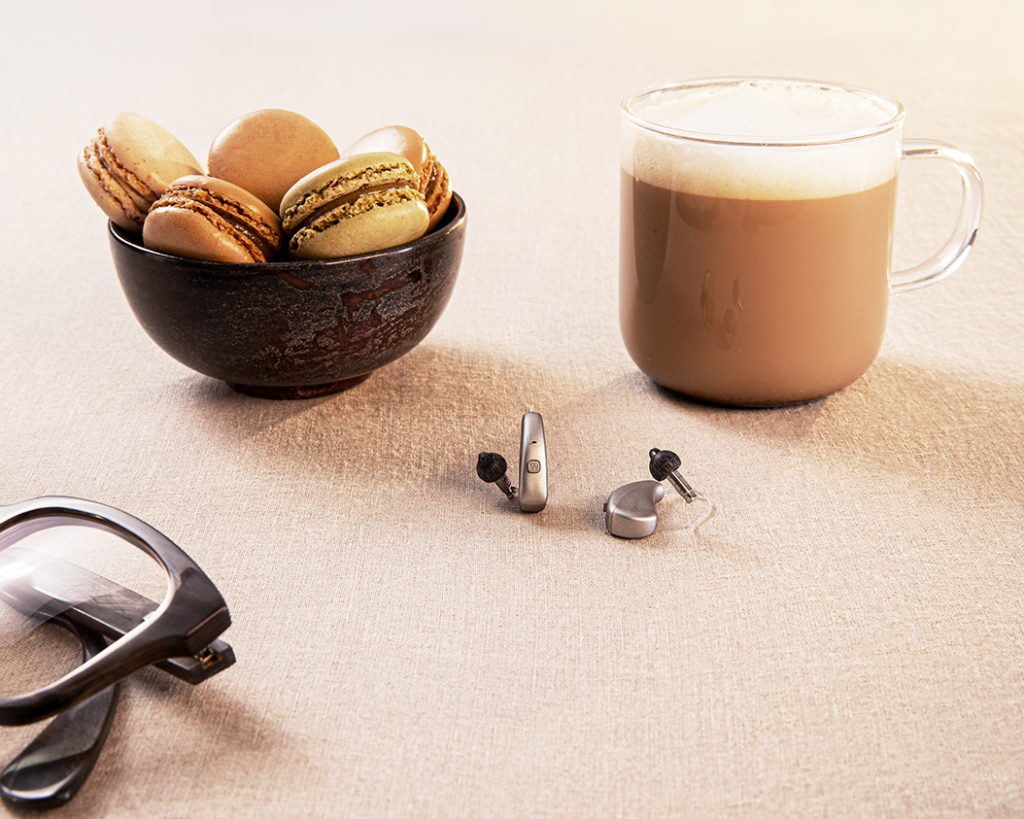 Widex Moment Sheer features breakdown:
4 different technology levels across 3 models

One of the smallest hearing aids on the market

Rechargeable option available

Intelligent AI technology using their app

Built-in Bluetooth available

Remote, professional hearing aid adjustments

Fractal Zen Tone Therapy feature
Starkey hearing aids
Starkey is the last independent hearing aid manufacturer in the world, and the only American-based manufacturer, too. For the last 40 years, Starkey has been leading the way in the development of new and innovative ideas, with no signs of slowing down.
We're reviewing two of their latest hearing aids; the Starkey Evolv AI and the Starkey Genesis AI.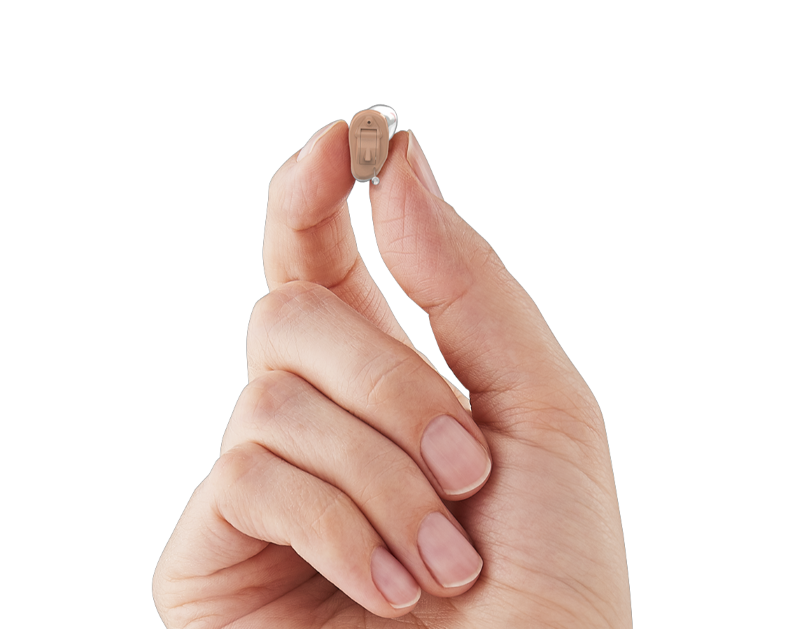 My Starkey App
Before jumping into the two hearing aids individual features, the My Starkey App is worth a mention. The app has been completely revamped for easier access and use, and it's far more intuitive than it has been in the past.
It's easy to access Edge Mode AI and Plus, and the other controls are visible from the home screen. For those who are new to wearing hearing aids, the app offers a brand new resource with helpful videos to guide you on your journey and also has some game familiarity features built into it.
Starkey Evolv AI hearing aid features
The Starkey Evolv AI is available in four technology levels across three models; the Micro RIC 312, the RIC 312, and their rechargeable hearing aid, the RIC R.
Edge Mode AI
Edge Mode is Starkey's incorporation of AI for this hearing aid family, and when activated, the hearing aids carry out an AI-based analysis of the wearer's environment and adjust their parameters to optimise the listening experience. This optimisation will improve speech understanding, even in noisy environments.
Starkey state that this feature even helps with speech understanding when the speaker is wearing a facemask covering the mouth. As a result, Starkey says that users should see a 40% reduction in noise energy compared to their previous hearing aids.
Outstanding app features
As we've covered in this review, many of the hearing aids we've mentioned today feature smartphone apps that are full of useful functions to help improve your hearing experience. However, Starkey has gone a whole step ahead with their app and offer features that are truly unique.
Not only can you adjust the hearing aids settings and choose different programs that have been set up with the help of your audiologist, but the app also offers an activity monitor, translation which shared a likeness to Google Translate, and transcription that creates closed-captions in real-time.
The app even boasts fall alerts and care settings that can help monitor the activity and safety of loved ones wearing the hearing aid, with automatic notification being sent to a designated person should something happen.
Starkey Evolv AI features breakdown:
4 different technology levels across 3 models

Edge Mode AI for better speech understanding

Phone app that includes fall alerts and real-time transcription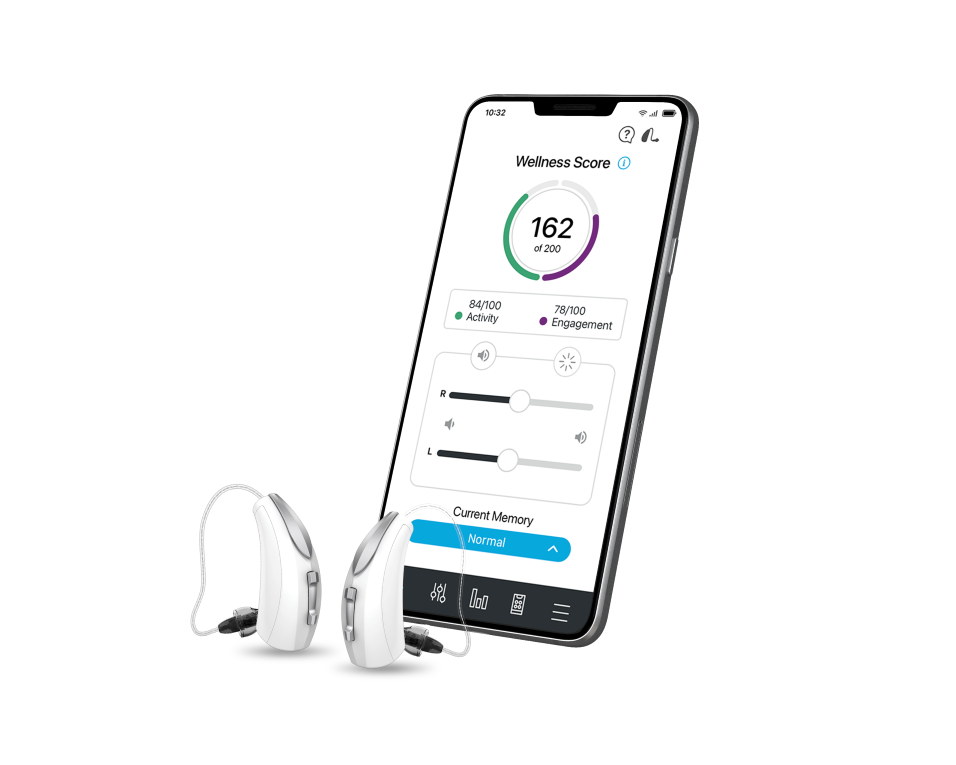 Starkey Genesis AI hearing aid features
Although the Starkey Genesis AI isn't due to be released in the UK until November 2023, we want to share with you the amazing features and benefits of Starkey's latest hearing aid addition. The Starkey Genesis AI hearing aids are RIC (Receiver-in-Canal) styles that look vastly different compared to their predecessors, are available in four different technology levels and have some seriously impressive battery-life claims.
The RIC RT is rechargeable with a telecoil and claims to be the longest-lasting rechargeable receiver-in-canal hearing aid on the market, holding up to 51 hours of wear on a single charge.
The mRIC R is a smaller hearing aid and Starkey boasts that this is the smallest rechargeable RIC on the market, giving 41-hours of wear on a single charge.
Neuro Processor
Similar to the deep neural network found in the Oticon Real hearing aids, Starkey's Neuro Processor is an automated AI accelerator that acts as the brain of the hearing aid, making 80 million automatic decisions per hour to give you the most accurate hearing settings for your environment.
Edge Mode Plus
Starkey has also enhanced their Edge Mode AI previously mentioned, which they now call Edge Mode Plus. This is a user-selected program that conducts an AI-based analysis of your current environment, with Edge Mode Plus acting 10 times faster than Edge Mode.
Enhanced Bluetooth
If you often experience problems connecting, or staying connected, when listening to podcasts or music through your hearing aids, then you'll be interested in Starkey's improvements.
With the assistance of a new antenna, the Genesis AI has improved its wireless range by up to 40%, meaning you can be even further away from your mobile when taking hands-free phone calls, and stream audio from a far greater distance.
Now you can enjoy your favourite podcasts, music and audio without having to worry about becoming disconnected from your phone.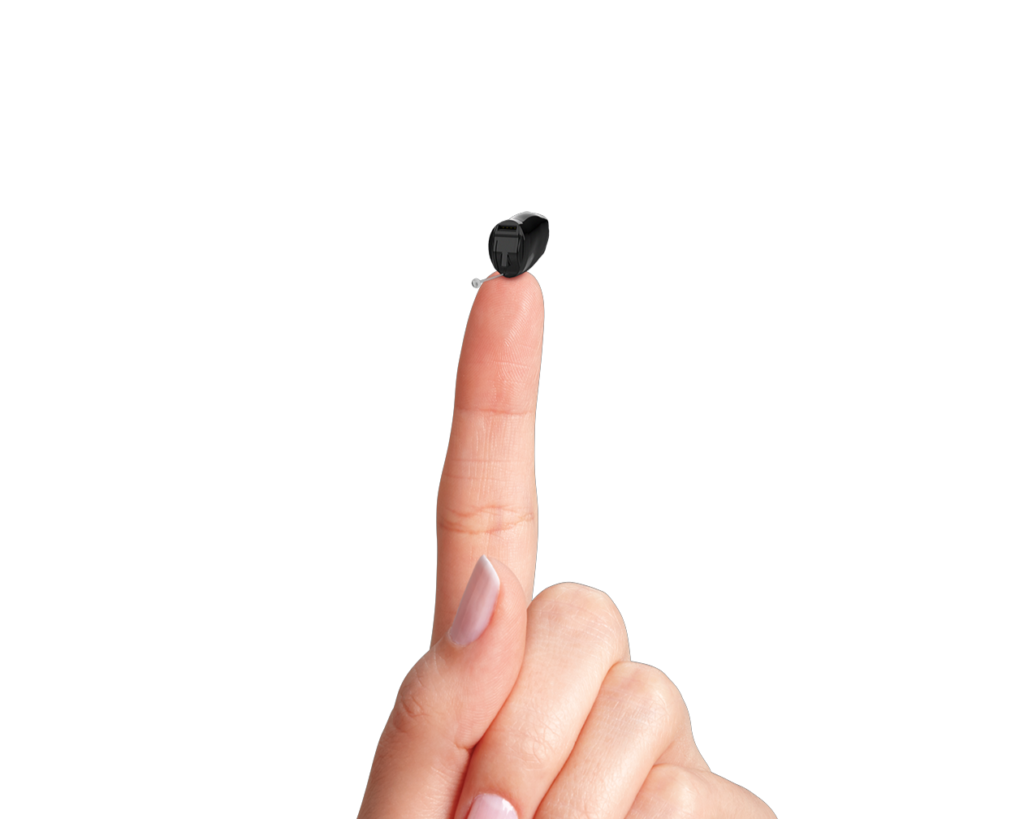 Further Starkey Genesis AI features
There are a whole host of other features accompanied by impressive numbers that work together to significantly enhance speech and suppress noise, resulting in a transparent and natural listening experience whether you're in either noisy or quiet environments. These features are:
600 more transistors

Five times more computational memory

10 times more non-volatile memory compared to the Evolv AI

10 times faster noise reduction
Starkey Genesis AI features breakdown:
4 different technology levels across 2 models

Neuro Processor technology

Enhanced Bluetooth connectivity

Edge Mode Plus; an improvement on Edge Mode AI
Find your perfect hearing aid with Harley Street Hearing
We appreciate that understanding what you want, and more importantly, need from a hearing aid can be difficult – especially with so much choice on the market. That's why our expert audiologists can help you choose your perfect hearing aid.
Book your hearing test and consultation where we can test your hearing capacity and create your bespoke hearing aid. If you're interested in finding out when this and all new hearing technology is available in the UK contact us below or call 020 7486 1053.
Reviews on the best hearing aids for 2023
Matthew Allsop is a Partner at Harley Street Hearing, and a content creator for Hearing Tracker, where he shares his honest opinion on all new hearing aid technology. Hearing Tracker is the world's first truly-independent resource for hearing aid customers. You can view his video where he shares his opinions on the latest hearing aids for 2023 below.
Enjoy this article? You might be interested in some of our others: