In-Ear Monitors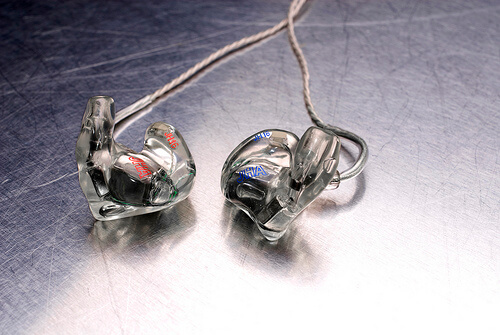 In ear monitors, or IEMs, are monitors that are custom moulded, often used by bands and artists who perform live on stage. Wireless in ear monitors allows performers to play live music without having to experience any form of feedback. In ear monitors remove the issues experienced with feedback prone and side fill loudspeakers with a small wireless device. The in ear monitor systems allow you to mix music directly into the ear, with the ability to choose the level of volume that you are able to personally control.
We can provide the best in ear monitors that are highly compatible with the majority of sound equipment available. By allowing you to mix live when performing on stage, you can transform your performance into a seamless, streamlined process with the help of wireless in ear monitors.
Why Should I Use Custom In Ear Monitors?
There are a wide range of benefits of in ear monitors that can completely transform your performance, allowing you to soar to new levels when playing live on stage. As well as offer benefits for the performer, our custom IEM range also adds value to the experience of the audience. Some of the benefits of in ear monitors in the UK include:
Complete freedom of movement for the artist:
Never feel tied down again with a custom IEM, allowing you to express yourself through performance, no strings attached.
Control of volume, helping to safeguard hearing and reducing voice fatigue:
You are able to take full control of your performance with custom in ear monitors that are adaptable to you.
A clear and uncluttered stage, improving audience sightlines:
Wow your audience with wireless in ear monitors that allow you to say goodbye to wires.
The reduction of on-stage volume, improving front-of-house sound:
In ear monitors for musicians allow you to truly give your audience the show of a lifetime. Make sure your levels are perfect, every time.
Overall improvement in monitoring sound quality, more precise, more consistent:
Be the best you can be. Custom IEMs allow you to produce the exact sounds you desire with the quality of sound as precise as you could ask for.
In Ear Monitors for Musicians
Although musicians, sound technicians and other sound professionals have been using custom in ear monitor systems for years, the technology has truly advanced in recent times. Enabling you with the highest degree of comfort, you can isolate noise while on stage like never before. Additionally, wireless in ear monitors give you the freedom to move around the stage as you please.
A huge benefit of in ear monitors is also it's integrability. Whether you use an MP3 device, a smart phone or a tablet, our custom in ear monitor systems use the same technology, therefore can be used by absolutely anyone.
In ear monitors use technology developed for hearing aids. This gives them a level of accuracy like no other. With exceptionally high levels of precision when it comes to noise isolation, you are given the ability to enhance the smallest details within your music. Custom in ear monitors allow you to notice sounds you didn't even know existed, giving depth to your music like never before.
Why Choose Custom In Ear Monitors From Us?
At Harley Street Hearing Clinic, we pride ourselves in producing the finest auditory products, including our very best in ear monitor systems. We have a vast selection of wireless in ear monitors available, so for the ultimate experience in audio reproduction we are the number one choice. As an independent practice we can choose from the full range of in ear monitor system manufacturers.
One of our highly trained audiologists will take your unique ear impressions and send your ear impressions to your chosen manufacturer. To see more details on specific in ear monitor manufacturers click here.
Contact Us Now to Get Hold of The Best In Ear Monitor Systems
For more details on different types of hearing protection we have to offer click here.
To book your appointment, please call us on 020 7486 1053. Alternatively, can fill out the form below and get started. We are always happy to help and look forward to hearing from you.