Signia's IX Hearing Aids Excel in Speech Clarity
Signia's New Charge&Go IX Hearing Aids Excel in Speech Clarity in Noisy Group Conversations – even when people move or change positions.
Unlike traditional hearing aids, with Integrated Xperience breakthrough technology these Signia IX hearing aids quickly adapt to multiple speakers, isolating and enhancing each person's voice while reducing background noise, even when the wearer isn't facing the speaker.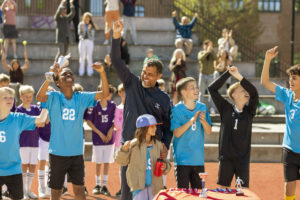 Conversations are essential to our well-being
Conversations and social interactions with our loved ones and friends are essential to our well-being and to keep our brains healthy.
"Integrated Xperience is about more than just hearing better. It is about giving hearing aid wearers the confidence to engage, interact, and contribute, especially in noisy group conversations. They don't have to observe from the sidelines anymore. No other hearing aid can track and enhance multiple speakers in real-time," explains Jens Moeller, Global Head of Signia brand.
How does it work?
Signia's Integrated Xperience features an all new RealTime Conversation Enhancement technology that analyses, augments, and adapts to the dynamic flow of conversations. In a study investigating speech performance in a group conversation scenario, Signia Integrated Xperience provided a significant improvement in speech understanding for the hearing aid wearer. 95% of the participants showed better performance with RealTime Conversation Enhancement than without*1.
With Integrated Xperience, 192,000 data points are analysed and processed every second to create one live auditory space that adapts in real-time as the conversation evolves. This technology ensures that wearers can actively engage in group discussions with clarity and immersion.
Pure Charge&Go IX
The Pure Charge&Go IX hearing aid boasts up to 24 hours of runtime on a single charge and includes a wireless charging case for convenience. Hearing aid wearers can choose their preferred style in ten colours Black, Graphite, Dark Champagne, Silver, Pearl White, Fine Gold, Deep Brown, Sandy Brown, Rose Gold, and Beige.

The Pure Charge&Go IX also provides convenient connectivity to iOS devices and Android smartphones that offer Audio Streaming for Hearing Aids. The Pure Charge&Go IX is designed to fit snugly into the ear and pairs with a user-friendly mobile app that allows wearers to adjust settings unique to their hearing needs, making every conversation count.
Silk Charge&Go IX – The Ultimate in Discretion and Clarity
As the world's first and only ready-to-wear rechargeable Completely-in-Canal (CIC) hearing aid, Silk Charge&Go IX seamlessly integrates into hearing aid wearers' daily lives. It is a small and unobtrusive option for hearing aid wearers looking for a virtually invisible hearing aid that fits instantly and can be ordered with custom tip options for the ideal blend of discretion and personalisation.

The Silk Charge&Go IX Charger, featuring a built-in power bank, provides on-the-go charging convenience. Wearers can enjoy uninterrupted hearing with 24 hours of runtime from a single charge. It is available in Black and Mocha exterior colours, with the option for Red Transparent or Blue Transparent shells.

Hearing Loss Facts
Today, more than 1.6 billion people worldwide are affected by hearing loss, with around 430 million experiencing a severe form that requires intervention. According to the World Health Organisation, the number of people with hearing loss is projected to reach 2.5 billion by 2050, with at least 700 million facing a disabling condition. Remarkably, less than 20% of those who require treatment have access to hearing aids, despite the significant negative impact (social isolation and loneliness, higher risk of developing dementia and higher risk of unemployment *2, that hearing loss has on both individuals and society as a whole.
*1 Jensen et al. (2023). Power the conversation with Signia Integrated Xperience and RealTime Conversation Enhancement. Signia White Paper
*2 World Health Organisation, Hopkins Medicine
Contact us online or call us on 020 7486 1053 to find out more or book an appointment.
Enjoy this article? You might be interested in some of our others:
Signia new Charge&Go IX Review
Matthew Allsop is a Partner at Harley Street Hearing, and a content creator for Hearing Tracker, where he shares his honest opinion on all new hearing aid technology. Hearing Tracker is the world's first truly-independent resource for hearing aid customers. You can view his video where he shares his opinions on Signia's new IX hearing technology below.